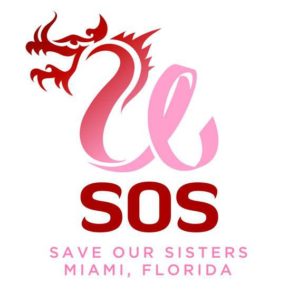 Miami, October 1, 2016 –  Dr. Don McKenzie, a Canadian sports medicine expert, who formed the first breast cancer survivor dragon boat crew in 1996, will be the special guest at the annual Save Our Sisters (SOS) Professional Day, being held Saturday, October 1 from 9:00 a.m. to 1:00 p.m. at the Miami Rowing Center, Virginia Key.
At this unique paddling event, healthcare professionals and media will paddle with SOS team members as they propel 700-pound, 20-seat dragon boats through the water. Professional Day was created to give doctors, nurses, physical therapists, mental health practitioners and other allied healthcare professionals, hands-on experience on the multiple benefits dragon boat racing brings to breast cancer survivors. "Doctors saved our bodies but dragon boating is saving our souls," says Kim Bonomo, SOS co-founder and team captain. "The team focus is on living, rather than on the disease that brought survivors together. We are powerful examples that women can lead full and vigorous lives after treatment for breast cancer."
Dr. McKenzie founded the first breast cancer survivor dragon boat crew in 1996 as a trial, believing that physical activity involving teamwork and paddling could benefit women after breast cancer surgery. His research proved right and has inspired nearly 200 breast cancer survivor teams around the world.
For more information on Professional Day or Save Our Sisters, contact Kim Bonomo at 305-776-5016, Kkbonomo@aol.com  or visit TeamSOSMiami.org.
What:             Professional Day with Team SOS
Time:
9:00-9:30 a.m:  Arrival/ Registration
9:30-9:45 a.m:   Instruction/ Warm Up
10:00-10:30 a.m:  Paddle with SOS
10:30-12:00 p.m:   Complimentary Brunch with SOS
Place:             Miami Rowing Center, Virginia Key (next to the former Marine Stadium)
Dress:            Comfortable Sport Clothes, Hat, Sun Block, Sunglasses, Water Shoes