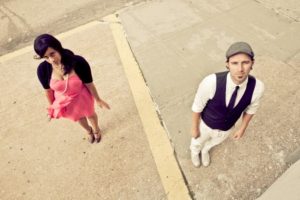 The duo Hola Hi, releases the video for the song 'Nunca Más Terminará'. The song, Nunca Más Terminará, is the story of the rekindling of a relationship after the pain and anger of a breakup. The video shows us how to avoid being hurt again, both built up defenses, an armor, for protection. In order to start over, they will have to lower their defenses, be exposed, naked and vulnerable. To love like they have never been hurt. All to the sound of pop rock splashed by bachata, with a sticky melody by the powerful voice of the singer, Angelina de los Rosarios.
With a lot of joy, Hola Hi promotes the single 'Nunca Más Terminará'. An artistic video, with beautiful black and white images, under the art direction of the talented director, editor and visual effects artist, Manuel Perez Matos.
As part of the visual art, Manuel Perez Matos, created a complex multi-layer visual effect on the skin of the characters, using motion tracking technique. Designer and stylist, Lisa Shairi, created the costumes and accessories worn by Paul and Angelina to interpret this dynamic story. The video is also graced by the talents of the cinematographer Angel Barroeta, the bailaora Lea "La Greca" Perez, creator of the choreography of the sword battle and the makeup artist, MJ Delmoral. The final product, is a work of art from Manuel Perez Matos and his team.
You can view the video here: https://youtu.be/F_UAShsMkhI
The single is on sale on iTunes and Amazon
About Hola Hi:
The musical duo, Hola Hi, is made up of the composers, musicians and singers Angelina de los Rosarios from La Romana, Dominican Republic and Paul Curtis from New Orleans. Together they create what they describe as 'World Pop' a mix of pop, rock, folk and R&B splashed with the rhythms and sounds of Dominican Republic and New Orleans. The songs 'Aire De Primavera' and 'Todo De Mi' from their first musical production 'Primavera', were selected for marketing campaigns for Target and Jack Daniel's and for the Hulu original series, East Los High.
About Manuel Perez Matos:
Manuel Perez Matos, is a Venezuelan director, with 8 Emmy Awards and several PromaxBDA Gold Awards. He has worked on projects for various artists such as Ricky Martin, Maná, Prince Royce, Paulina Rubio, Luis Fonsi, Ricardo Arjona, Chayanne and Pitbull. Recently he co-directed videos for Alejandro Sanz ft Marc Anthony and for Gente De Zona.
www.holahi.net
Instagram: @holahimusic      Youtube: youtube/holahimusic    Twitter: holahimusic