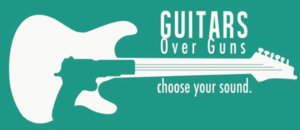 Miami Middle School Students Recreate Pop Hit 'Am I Wrong'
July 2nd, 2015 (Miami, FL) – We are thrilled to present the year-end project for Guitars Over Guns (GOGO) Miami, a re-make of Nico & Vinz's popular song, "Am I Wrong." Mentors spent months with students learning the song and dissecting the lyrics. Rap mentor, Danny Villamil, did an amazing job coaching his young MCs to write lyrics relevant to their life experience, inspired by what they heard.
In April, students were taken to Noisematch Recording Studios, a gorgeous studio where "Am I Wrong" was recorded with 40+ kids. Many of the youth had never ventured too far from their own neighborhoods, so going to a professional studio in Wynwood was a very special experience for them. The video was filmed weeks later, during spring break, at Allapattah Middle School. The kids had a blast coming up with ideas and a storyboard for the video.
This year was particularly special as it marked the first collaborative project between two GOGO schools. GOGO started a program at Allapattah Middle School in September of 2014. Their school year culminated in a performance for their peers on the last day of school. The day before the show, several of the students wanted to walk out in fear that their classmates would boo them off the stage, as it has happened to other students. The performance had the opposite effect and they had the whole auditorium singing along. The video was also received with roaring applause. It was a defining moment for GOGO and for the young musicians. Video link: www.bitly.com/GOGOAmIWrong2015
The students have worked really hard this year, not only for themselves but to improve the culture at their schools. It has been a pleasure to watch these young leaders emerge and grow into their own. Join us in showing these students love by watching the video above, liking it on @guitarsoverguns' social media outlets and sharing with others. This is our opportunity to show these students that we see them and the great work that they are doing!
"With new academic accountability and increased high-stakes testing, many of the traditional elective courses that used to be available to students have been sacrificed. GOGO allows students to enjoy a quality music program that exposes them to cognitive learning and facilitates growth in many areas of human development. Our students have gained motivation, social skills, and appreciation for the arts through their consistent participation in GOGO."- Principal Bridget McKinney, Allapattah Middle School
About Guitars Over Guns
Guitars Over Guns provides mentoring to at-risk youth through music education and performance as an alternative to the negative and harmful influences that often dominate their environments. Programs target the most vulnerable students, pairing them with professional musicians who use contemporary music to reach and teach the skills necessary to unleash their potential to be leaders, both in and out of school.
###