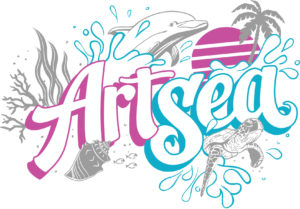 ArtSea: A Convergence of Ocean Conservation Awareness
Through Art & Marine Science
"Artistic Inspiration for Ocean Conservation"
2.22.17 (Miami, FL) South Florida is known for its beautiful beaches and waterways, which play a big role in our tourist economic impact, and allows locals to enjoy natural amenities. Because of this, it's vital that we generate a need for conservation and ocean awareness, starting here, at home. The Big Blue & You, through their event ArtSea, taking place on March, 4th, does just that!
ArtSea employs art and education to connect community members, of all ages, through discovery of the the ocean. Numerous art and science stations provide event-goers a chance to explore and learn about the ocean in a variety of hands-on activities and demonstrations. Guests will receive an "ArtSea Passport", guiding them through each activity station. After completing their passports, the attendees receive a free gift bag full of in-kind goodies.
Throughout ArtSea, guests will learn about The Big Blue & You's youth outreach programs, as well as discover a wide range of opportunities to help the big blue ocean.
"The Big Blue & You believes youth are the leaders of today. We provide the platform for young people to creatively express themselves and help find solutions that will aid in the survival of our precious oceans." Danni Washington, Founder Big Blue & You. "We are thrilled again this year to be featuring "UM Ocean Kids", an initiative created by Dr. Jill Richardson (UM Professor), that inspires and excites children of all ages and demographic areas of South Florida  about Marine Science."  
 
What:                     ArtSea, 6th Annual Celebration, Featuring UM Ocean Kids
When:                    March 4th, 2017  l  11:00am – 4:00pm
Where:                   Historic Virginia Key Beach Park – 4020 Virginia Beach Drive, Miami, Fl 33149
Who:                      Community-at-large, all ages
Why:                      This event engages attendees and generates awareness on conserving our oceans through discovery, art activities, interactive marine science lessons, performances and more. 
Cost:                      Free Admission
Website:                https://bigblueandyou.org/artsea
 
ArtSea brings an attendance of over 1,500 multicultural families and community partners each year. The festival is a perfect occasion for families, school groups, home-schooling groups, sororities, fraternities, and youth-based organizations and centers.
 
Available for interviews:
Danni Washington, Founder of Big Blue & YOU, Ocean Advocate & TV Host

Dr. Jill Richardson, Ocean Kids Lead Contact & Senior Lecturer and Graduate Program Director, Department of Marine Ecosystems and Society at the University of Miami's Rosenstiel School of Marine and Atmospheric Science (RSMAS)
Major sponsors for ArtSea include but are not limited to; The Children's Trust, Miami-Dade County Department of Cultural Affairs & Cultural Affairs Council, Publix and Rubio's. Other sponsors include Historic Virginia Key Beach Park, University of Miami Ocean Kids, Univeristy of Miami Rosenstiel School of Marine and Atmospheric Science, Biscayne Nature Center, LOVE Our Nation, The Motivational Edge, I Paddle Miami, Cushy Gigs, Dragon Boat Miami, Earth2Table, Mount Teman Roots, Mocha Mermaid and PGPP Enterprises, LLC.
 
About The Big Blue & You
The Big Blue & You is dedicated to inspiring and educating youth about ocean conservation through arts and media. We are a youth-led organization that provides a global platform for today's young leaders to creatively express themselves and live an ocean-loving lifestyle. Through commitment to youth leadership and advocacy, we aim to give young people around the world the opportunity to learn about and protect our world's oceans, creating a ripple effect for change.
https://bigblueandyou.org
 
About Danni Washington
Miami native with Jamaican roots, Danni Washington is deeply passionate about our oceans and science communications. She dreamed of studying the oceans since she was six years old. In 2008, Danni graduated from the University of Miami Rosenstiel School of Marine & Atmospheric Science with a B.Sc. in Marine Science/Biology. At age 21, she co-founded along with her mom, Michelle Swaby-Smith, the Big Blue & You  She also served for four years as a naturalist at the Marjory Stoneman Douglas Biscayne Nature Center where she helped educate thousands of South Florida children about local marine ecosystems. Danni is currently the host of nationally-syndicated STEM television show, Nature Knows Best available on FOX and HULU.
https://www.danniwashington.com
 
About Ocean Kids
F.I.N.SEA Foundation has teamed up with the Rosenstiel School of Marine and Atmospheric Science (University of Miami) and various undergraduate organizations to host the annual "Ocean Kids" initiative for underprivileged, minority children of South Florida. The mission is twofold; to utilize the marine science and conservation arena to inspire curiosity and excitement about learning and secondly, to generate environmental awareness and stewardship in communities where it has been profoundly lacking.
http://www.rsmas.miami.edu/outreach/student-educator/ocean-kids