case study: adopt a family
---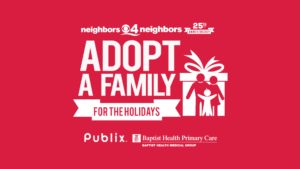 what: Adopt A Family
when: Fall/Winter 2017
the plan: Neighbors 4 Neighbors, a nationally recognized non-profit dedicated to "connecting those in need with those who can help," operates an annual Adopt A Family drive to ensure that all South Florida families can celebrate a happy holiday season.
theAOinsight Group was contracted to operate a full social media campaign including strategy, content development, graphic design, engagement, and tracking. In addition, we provided a suite of organizational services which included, but were not limited to, liaising with social workers, community agencies, donors, and families by phone and through more than 300 individual emails; recruiting participant social service agencies and training them to use the web interface; as well as troubleshooting and assessing recommendations for improvements to the website and program to improve participants' experience for years to come.
The campaign also included an unexpected challenge – Hurricane Irma and the destruction it caused in our community, necessitating that we recruit and engage with community-based organizations in Monroe County as well as Miami-Dade and Broward to ensure that disaster relief needs were met.
#AOinsight staff logged more than 1,000 work hours on this campaign, and the results showed, achieving nearly 30,000 organic social impressions – but, most importantly, resulting in holiday cheer for more than 500 local families in need!
---
the numbers
total posts: 192
total graphics created: 35
emails sent: 300+
training sessions delivered: 5
troubleshooting hours logged: 500+
resulting in… 29,095 organic social impressions, 1,557 organic engagement, and 505 families adopted!
Special thanks to Neighbors 4 Neighbors for bringing inviting us to implement this important community initiative!
We invite you to check out our campaign recap report.